Week of 12.25.17  Vacation Week. Go To MarksFriggin.com for a complete rundown of shows and look up movies mentioned by letter across top of this page.

Week of 12.18.17  Vacation Week. Go To MarksFriggin.com for a complete rundown of shows and look up movies mentioned by letter across top of this page.

Week of 12.11.17
Show opens with a clip from The Godfather. Howard said Fred told him to watch a Netflix documentary about David Bowie, and Howard said it was awful. All talking and no music. He said there was another one called Nick Ronson, the man by Bowie's side that also had no music, or they didn't have enough money to get the real music, so used music like Bowie's. Jason said review said it was horrible. Fred said he heard lots of interesting stuff and thought it was good. Howard said he doesn't care how much Bowie paid in rent. Robin said the documentary 5 Years was all good, because it was all music. He had seen a documentary on the Stones that showed them in studio and background singers. Robin said 8 Days a Week was incredible. Robin said she saw a movie called Dark Tourist. JD thought that was funny-he thinks Robin only watches classy movies. It was about people who go to places where bad things have happened. Howard said Novitiate was a really good movie, one of the best movies that Howard had ever seen. It was real dark, all the actors were great. He wondered who would watch it, but it is really good. He said it couldn't see it in any theaters. He says This is Us makes him cry every time. It's really good. Alec Baldwin was in studio. Howard said he loves him in Glengarry Glen Ross. He said Jerry Seinfeld said the scene where's he's telling the guys how to sell, is the best comic scene ever. Tuesday's show opened with a Rodney Dangerfield clip from Caddyshack. Howard said the entire latest episode of Walking Dead was shot at night and even with his advanced equipment, he couldn't see anything.
Week of 12.4.17
Bono and the Edge were in studio and talked about a movie about their band, U2. Howard said Lady Bird is really good. James Franco was in studio. They talked about The Interview
and James Dean. James also talked about watching the Andy and Jim documentary, the documentary about the making of the Man on the Moon, saying it was kind of like how it was playing Tommy Wiseau while directing the movie as Tommy Wiseau. He was in to plug his new movie, The Disaster Artist, which is based on Tommy Wiseau who directed The Room. Howard said he needs to see the original The Room. He can't imagine it can really be that bad. Howard and Robin said this movie was great. James brought in the real Tommy Wiseau for Howard to interview. JB Smoove was in studio from Curb Your Enthusiasm.
JD Tweeted: I lOVED "Phantom Thread"… in top 3 of my fave PTA movies. It's beautiful and mean. I highly recommend.
Week of 11.27.17
Talking about JD and his fear of death, JD brings up his fear of being dead but not knowing it, like from the movie Johnnie Got his Gun. Howard said there's a good show on Netflix Man Hunter about the a guy the police found under a staircase, like the Unabomber that's really good. Kevin Nealon was in studio, and they talked about how good the movie Roxanne was. Kevin said he played "Drunk #2. Howard said the Netflix documentary about the making of Man on the Moon is really good. Robin said that she's watching the 2nd season of Stranger Things and now really likes it. Howard wishes he had a mind like Punisher. Robin really likes the Secret History of Comic Books. Howard says he doesn't care about that one.
Week of 11.20.17 – Thanksgiving Week Vacation  Go To MarksFriggin.com for a complete rundown of shows or look up movies mentioned by letter across top of this page.

Week of 11.13.17 – plus a bonus Thursday show

Ralph Tweeted:

WARNING!

DO NOT I repeat, DO NOT watch "KNOCK, KNOCK" with KEANU REEVES. It's beyond BAD! Absolutely NO redeeming qualities and worst of all… A DUMB ENDING @ELIROTH I would appreciate a formal apology for wasting my time… THX!
Howard and Fred say Mindhunter on Netflix is the best thing ever. Robin likes Ozark. Howard really likes the Louis CK movie I Love You, Daddy, but says it's weird watching Louis talk about morality now that he knows about his issues. Howard says he wants to see Attack of the Killer Donuts. Talking about Robin taking the cone of silence from Get Smart. Jon Stewart was in studio. He talked about his son's medical problems, he said his surgeon was like Edward Scissorhands. Howard and Jon talked about liking Flash. Both Howard and Jon hated Marvel Humans. They said they should have looked to find a superpower that would enable the actors to act. Robin thinks Gotham is too dark for kids, but Howard loves it. Howard thinks Robin as a boss in like the guy in Whiplash. On WUS, Jon and Gary compared Robin's singing to Florence Foster Jenkins, but said that Robin can sing. Jason Tweeted that Justice League is really good.
Week of 11.6.17
Rosie O'Donnell was in studio. Howard talked about how in 1993 she had been in the 3 biggest films: A League of Her Own, Sleepless in Seattle and the Flinstones, and the fact that she left a film career for a talk show. She said she didn't think she could make a career out of being the "friend". Rosie talked about the movie Madoff with Richard Dreyfuss reminding her of the way Trump used his family and it makes her sad. Robin and Howard both said that movie was great as well. Only movie Rosie says she wishes she would have gotten the Helen Hunt part was with Jack Nicolson in As Good as It Gets. Tuesday's show opens up with Kevin Spacey's monologue from the Big Kahuna. Howard is still talking about Stranger Things. Jon Bernthal was in studio to plug his new movie Sweet Virginia. He was Shane in Walking Dead and now plays the Punisher, both of which Howard loves. Howard and Jon both say John Wick could beat Neo from Maytrix. Robin said she loved him in the Tank, which she later remembered the name was Fury. Jon said she could call her anything she wanted.
Week of 10.30.17
Howard says he's watching Season 2 of Stranger Things and it is really good; better than the first season. Ralph called in and says that season 2 is boring. Howard and Robin say that Suburbicon is really good. He's surprised it didn't do better, but it's a Coen brothers' movie, a maybe it's a little too dark and quirky for most people. Show opens on Halloween, the last day of Cocktober with Fred adding excerpts of the Exorcist to the show's opening theme, and Wendy doing her Freddie Kruger Nightmare on Elm Street voice. Adam Levine was in studio to plug his new album that was named after the Matrix, which Adam thought was Keaneu Reeves' best movie. Howard said that wasn't right, his best role was John Wick.
Talking of Kevin Spacey being accused of sexual abuse and House of Cards was cancelled. Turns out it was the last season anyway, but Howard said he really liked the show, and though he will have to say publicly that he won't watch the last season, he probably will. Fred plays the Deliverance sound byte during a caller from Kentucky. Kelly Clarkson was in studio and talked about making From Justin to Kelly and how awful making it and how awful a movie it was.  She also sang a song from Princess Diaries that became a hit. She said that the Disney company promoted the shit out of that song, so she thinks they're great.
Week of 10.23.17
Howard still watched the premier of Walking Dead and says it's still really good. Howard and Robin still say Super Girl is really bad, but Howard is still watching it. Howard's looking forward to the new season of  Stranger Things. Michael Rappaport was in studio, and they went through his films, saying how good an actor he is.
Week of 10.16.17
Show opened with Back to School clip. On WUS, Gary said he finally saw Jackie Brown and really liked it. Robert Plant is in studio and Howard and Robin again say how much they like the movie It Might Get Loud. Robert Plant said he got into rock music when he first saw the movies Rock Around the Clock and The Girl Can't Help It, because there was no radio then for teenagers in England. That was his first exposure to that music. He said when those movies played, the crowd tore up the theaters. It was so great to hear music that spoke to teenagers. Howard said the documentary about Steven Spielberg is really good. They went on to talk about all the great movies he's made that Howard had forgotten about (most Spielberg Stern Show movie reviews are linked at top by alphabet) Howard likes the new Spider Man movie and both he and Robin liked Wonder Woman, Defenders The Avengers and Jessica Jones (but had to watch that one twice to enjoy it. She went back to watch it again after Howard said how good it was.).
Week of 10.9.17 Vacation Week. Go To MarksFriggin.com for a complete rundown of shows and look up movies mentioned by letter across top of this page.

JD Tweeted: I highly recommend The Big Sick. A very funny and lovely movie. Nice job @kumalin & @emilygordon.  He also tweeted in reply for documentary recommendations: "Whitney: Can I Be Me" – excellent doc, and if you haven't seen Tickled, that's a must see.
Week of 10.2.17
Talking of Hugh Hefner's death, Howard said that even Mini Me from Austin Powers was at the mansion. Ronnie read a poem awkwardly, and Howard said it was like the guy reading from the Godfather. Sarah Silverman was in studio to plug her movie Battle of the Sexes. Sarah complained that Howard never watches her stuff, and Howard said he watches all her standup specials and loves them, and sent her a note that he and Beth really liked the movie she did I Smile Back. Miley Cyrus was in studio and she was talking about her dad telling stories, and she said he was like the guy in Big Fish. They talked about her Hanna Montana movie. Miley says we all need to see more live music; we can't just sit around and watch Narcos. Howard was saying they were going to make a sequel to Coming to America, which he says is one of his top 5 movies ever. Said it would be great to see what all those characters are doing years later. Jeff the Drunk called in to plug his movie, Vimeo.com/ondemand/AmericanPirates (thanks marksfriggin.com)
Week of 9.25.17
Howard likens Donald Trump's rallies to Sally Field in Soapdish-whenever she needed adulation, she would go to the mall to be recognized. Howard's finished watching The Punisher and he loves it. Jerry Seinfeld was in studio, and they were talking about their favorite movies. Howard said his is Abbott and Costello Meet Frankenstein. Jerry said he loved Abbott and Costello, and his Seinfeld show was based on these movies. He wanted his characters to exist around crazy and mean people, and then to never have a lesson or hug at the end of an episode. Seinfeld said his favorite movie is The Graduate. Both Howard and Jerry said Godfather was so good, it didn't need to be on any list. Jerry said he liked Glengarry Glen Ross. He said it has a great monologue that most comedians know by heart. Jerry said Sophie's Choice haunts him. He and Robin both say Schindler's List is great. Howard won't watch either of those films. Howard said that Mike Judge has a new cartoon series called Tales from the Tour Bus . The one he saw was about Johnny Paycheck and he said it was great. Says that guy was crazy. He's anxious to see more of them, and is really looking forward to the one on Jerry Lee Lewis.
Week of 9.18.17
Howard says the girl from The Fault in our Stars (she was great looking even with the tubes in her nose) and The Descendants was really hot on the Emmys last night. Howard is surprised that the Dice show doesn't get any awards. He doesn't get VEEP. Robin said that's a great show, but Howard doesn't like it. Howard is now watching The Punisher, and says it's great. One of the guys from the Sopranos died over the weekend. Robin talked of Howard re-watching the entire show, now that she's re-watching all the Game of Thrones. This is Us won some awards, which Howard liked.
Week of 9.11.17
Doing an obituary on Sirius radio host Jay Thomas, Howard talked of all TV shows and movies roles he had-Howard said he'd done it all and had done it successfully. He's been in Ray Donovan, Cheers, Mr. Holland's Opus, Mork and Mindy and Murphy Brown. Making fun of JD"s bucket list, Fred says in his JD voice that he wants to be Harry Potter. Richard says the Spanish REC  movie REC gave him nightmares. Howard says he's too scared to watch It. Richard says it's great. Ralph also tweeted he liked It. Insane Clown Posse was in studio, and they agreed It  is a great movie.
Howard was talking about the movie FM. Says it's the worst movie ever. He was talking about it because the writer of the title song, Walter Becker of Steely Dan, had just died. Howard said it was so unrealistic, and just an awful movie. Howard says Narcos' season 3 is great. Robin's re-watching Game of Thrones. Howard still loves Ray Donovan, but doesn't get that the guy who can finally get away from his sick wife, isn't cheating on her. He's still upset the Kaleesi doesn't get naked on Game of Thrones. He's still watching the Bachelor, and doesn't get Ocean's 11, 12, 13… Doesn't give a fuck. Talking about the telethon to raise money and who's sitting where, Fred uses the Ed Wood byte "Fuck You!"
Jason Kaplan tweeted: Saw Mother! last night. Holy shit! I loved it…it's a fucking trip that I can't stop thinking about. Aronofsky is the man.
Week of 9.4.17 Vacation Week. Go To MarksFriggin.com for a complete rundown of shows. Look up movies mentioned by letter across top of this page. Labor Day Phony Phone Call Special

JD Tweeted:  The new "It" is really good. Bill Skarsgard as Pennywise is awesome.;  and: I'm a bit behind on things, but I'm telling you, "King of the Road" on Viceland is still one of the best shows on TV today.
Richard Christy tweeted:  Just saw It a 2nd time, INCREDIBLE film & love that Anthrax music is in it. Stephen King = Greatest Storyteller Ever. Ralph also tweeted he liked it. Insane Clown Posse was in studio, and they agreed it's a great movie.
Week 8.28.17 Vacation Week. Go To MarksFriggin.com for a complete rundown of shows. Look up movies mentioned by letter across top of this page.

Week 8.21.17
Show opens with clip from King of Comedy. While Shuli and Ronnie argue, Fred plays the banjo music from Deliverance. Howard watched the 2 seasons of Man in the High Castle and really liked it. 3rd season coming out in September. He likes the Netflix series The Defenders. Then he watched Growing up Supermodel. He says it's the best show on TV now. Kids of supermodels want to be supermodels. Even the guys and fat kids. Howard says to watch the TV show Vice on Nazis, and then watch all the crying Nazis now that they've been identified and ostracized. Howard loves animals way more than people. He loves Planet of the Apes, and Robin said he needs to see Kong. Howard wonders who would buy a DVD anymore, and then said that Richard bought Wonder Woman, which Howard said he still wants to see. Talking about Jerry Lewis' death, Howard and Robin both said they loved The Nutty Professor. He thinks now that Jerry's dead, that movie he made The Day The Clown Cried, will finally be released. That was the movie he wrote, directed and starred in, but never released because it reportedly was so bad. Talking about time with Jimmy Kimmel, he says they're like the old guys in On Golden Pond.
Week of 8.14.17
Talking about his and Robin's story of watching someone steal a bicycle and not saying anything, Fred plays the Dragnet soundtrack. JD took his fiance and her parents to see Hello Dolly with Bette Midler, who he says he loved in Ruthless People. He was nervous for the actors while watching the show, because he had been in a play in high school, playing Maxwell Smart in Get Smart. Then JD watched Jaws on TV with them. Benjy had a role in the newest Sharknado. Fred plays the "What What What!" South Park soundbite. Robin said that since Howard loved The Planet of the Apes, he'll love Kong. Again, talk about how great is the Game of Thrones.
Talking about Alex Jones with his half-man/half-alien conspiracy theories, Howard said that would be like The Brindle Fly. Howard says the lawyer for High Pitch Eric playing pranks on him to keep his web show interesting is like a 3 Stooges law film. Ronnie has a cameo in a Adam Sandler movie, and Howard said poor Steve Buscemi was in the great Boardwalk Empire and now he has to work with Ronnie, whose acting would remind him of a scene out of Ed Wood. Now that Ronnie's an actor, he says he gonna vote for the guy running for SAG president who is in Ozark because he likes him in the show.
When asked about his favorite movie, a caller says the Big Lebowski. Howard wonders why he doesn't say Abbott and Costello vs Frankenstein. Howard said Susan Sarandon is now in Ray Donovan. He said she is good; he remembers watching her with her big jugs in Tempest. Robin can't believe he watched a Shakespeare movie. David Letterman was in studio. When asked his favorite movie, he said Once Upon a Time in the West. He also had auditioned but didn't get the lead in Airplane.

Week of 8.7.17 Vacation Week. Go To MarksFriggin.com for a complete rundown of shows and look up movies mentioned by letter across top of this page.
Week of 7.31.17
JD is going camping with his fiance, so Howard talked about  what a nightmare that will be, like in 127 Hours with James Franco. Jane Foray died over the weekend, and Howard talked about how great she was. She was the voice of Talking Tina on the Twilight Zone, but mostly famous for voicing Rocky in Rocky and Bullwinkle. Howard and Gary said the documentary about Oasis: Supersonic is really good. Howard likes Boarwalk Empire. Ralph called in to say Ozark was really good, a cross between Breaking Bad and Justified. He also loves The Strain. Howard talked about a news story where two bots devised their own language and were talking to each other, and he said that this is the story in Terminator.
Jeremy Renner is in studio to plug his new movie, which Howard had said yesterday that he saw Wind River and it was really good. He said he saw it last weekend and can't stop thinking about it. They talked about him playing Jeffrey Dahmer in Dahmer, which led him to getting the role in the Hurt Locker. They talked about The Town with Ben Affleck, S.W.A.T and Hansel and Gretal: Witch Hunters, which Howard and Jeremy both said they had thought it was a good movie, and the Avengers movies.
JD Tweeted: A guy almost beat another man with pots and pans last night, so try telling me there are better reality shows than "Big Brother."  and This week's President Show was so great. The commentary/satire is some of the best on TV today.  and New "Curb" sounds like it could be epic." and then… "Dunkirk" in 70 mm IMAX is fucking awesome.
Week of 7.24.17
Monday opened with a phony phone call using Arnold's voice from The Terminator. Robin said Dunkirk was #1 at the box office last weekend. Howard didn't know anything about it. On the WUS, Gary said if he didn't have any desire for sex, he imagines his life would be like the movie Limitless. Opening to Tuesday's show was a Baba Booey song parody from Game of Thrones. He said their latest episode was easier to understand-he figures they're dumbing it down for viewers like him. Robin said she liked the show Shameless, and thought Howard would too, but he's never seen it. Robert Pattinson was in studio, plugging his latest movie Good Time. Howard said it was a great movie; the guy's such a bumbling crook. He was in the Twilight movies, as well as one of the Harry Potter movies.  (the 4th one), and Little Ashes. Fred played a clip of Austin Power's "Throw me a bone!" Howard and Fred really likes Man in the High Castle. Robin couldn't get into it.
Week of 7.17.17
Martin Landau died over the weekend. Howard's said his favorite performance of his was in Ed Wood. He'd started in the original TV series Mission: Impossible. He was offered the Spock role in the Star Trek TV series and turned it down. Howard said that was probably a good decision, but then said he turned down tons of money from conventions alone. He was also in North by Northwest,  Entourage, a movie that coming out soon, The Last Poker Game, Tucker, and a Woody Allen film, Crimes and Misdemeanors. Also talked about the death of the man they call the father of the zombie films, George A. Romero. He made the first, Night of the Living Dead. Howard said he didn't like zombie stories until the Walking Dead, but Robin loved this movie. Richard Christy then came in and said this guy made amazing films, and he says Day of the Dead is his best.
Howard's TV wife is now in AMC's series Loaded. Fred plays the "Scott!" from Austin Powers. Neither Howard or Robin haven't seen last night's Game of Thrones yet. He's watched every episode, but has no idea who anyone is, though he still loves it. He can follow House of Cards, but Robin says Game of Thrones has lots more characters and plot lines. Jon Hein is the expert everyone goes to for explaining who everyone is. He read the books, which Howard thinks was a big waste of time. Howard got to see the new Planet of the Apes movie, War for the Planet of the Apes and loved it. Says he loves talking apes, especially Caesar. He gives it a big thumbs up. He loves it that the apes are so much better than humans. They're smart, they talk, yet they still throw feces. Talking to the Navy Seal, Howard talks about Zero Dark Thirty, which he loved.
Charlize Theron was in studio. They talked about her role in Monster, Aeon Flux, The Legend of Bagger Vance, Cider House Rules, Devil's Advocate, Mighty Joe Young, which Howard likes better than King Kong, Mad Max: Fury Road, A Million Ways to Die in the West and Young Adult. She was in 4 episodes of Arrested Development. Ralph called in to say that Howard really needs to see her story arch in that show. She had auditioned for Elizabeth Berkley's role in Showgirls, but turns out that was a good thing, as the movie tanked. She's in to plug her new movie, Atomic Blonde, which Howard said was great and if you're a fan of action, speed chasing movies, this is the one to see. Howard and Robin both said they all liked the films they talked about.
Week of 7.10.17 Vacation Week. Go To MarksFriggin.com for a complete rundown of shows and look up movies mentioned by letter across top of this page.

Week of 7.3.17 Fourth of July Holiday Week. Go To MarksFriggin.com for a complete rundown of shows and look up movies mentioned by letter across top of this page.

Week of 6.26.17
Howard said Dr. John Sarno had died over the weekend, and his documentary, All The Rage, that Howard was interviewed for, is going into limited release this weekend. Howard said Gary's dog has made friends with a deer in the neighborhood and his wife has been posting videos which Howard loves, reminding him of Born Free. Talking about Steve from Florida doing his walk of shame this week, and how backwards people are who watch those psychic shows on the E! Network, Howard said it's like we're living in Game of  Thrones. Howard says people should have evolved enough to not listen to psychics. Last weekend Transformers was #1 at the box office. Howard doesn't get it. Said he saw two of them and doesn't get it. If these all-powerful beings are coming to earth, why do they have to disguise themselves as cars? Doesn't make sense. Robin said they're making a new Sharknardo and wonders why they don't have Benjy out doing press.
Jimmy Iovine was in studio to plug the documentary about him, The Defiant Ones on HBO. Howard said he watched all 4 episodes and that it was great. He had started as an electrical engineer and Robin wondered if Howard could get through a documentary about Scott the Engineer. Howard said he could, because it would only be 3 minutes long. Robin said Jimmy was like Zelig; he was around with every big star. Jimmy said he went to the movies with John Lennon to see Grand Buffet, (La Grande Bouffe) a foreign film where everyone sits around and eats themselves to death. It was shown with subtitles, and he'd forgotten his glasses.
Fred played the "Bullshit!" from Ed Wood. Tuesday opens with Son of the Beach "Stinkfinger" song. Donny Wahlberg was in with New Kids on the Block, and High Pitch says he likes to watch him in Blue Bloods, especially the part in the beginning where he's interrogating people. Howard and Robin were talking that they both liked and would recommend Logan and Doctor Strange. Ice-T was in studio and they talked about New Jack City, Law and Order, Breakin', Ricochet, Johnny Mnemonic. Howard loves Ice-T's remake of "Hey Joe" that the did for the GI Joe movie.
Week of 6.19.17
Show opens with the "0.0" clip from Animal House. During Robin's news, she announced that the guy that played Flounder from Animal House had died. The actress from the Hurt Locker was complaining to the press to not release her wedding pictures. Robin said no one even knew or cared she got married. Howard was talking about the New Family Feud, that they had on the lady from his favorite show, This Is Us.
Seth Rogen is in studio plugging the 2nd season of Preacher. Howard says it's good. Seth says it's totally different than anything else on TV now. Seth is on an episode of Drunk History. Howard had never heard of it, but Robin said it was one of  JD's favorites shows. Seth said it was one of the best shows of TV now. Howard said Sausage Party was good and really successful. Seth said that it took about 10 years to make, so he's pleased it made money and got good reviews. They talked again about The Interview and the controversy around it. Seth talked about his other projects: The Disaster Artist, which is based on the making of the worst film in history, The Room, Flarsky, and The Pact and the only movie he was unhappy to plug was Guilt Trip.
Opening of Tuesday's show was a clip from King of Comedy with Robert De Niro as Rupert Pupkin. Howard said he watched John Wick 1 and 2 and loved both of them. There was no plot, no girls, no personal life, just killing. They even tried to kill his dog and blow up his house. It was just killing all the way through. They even show him reloading, so it looks more authentic. Howard said it was great. Ashton Kutcher was in studio. Talked about his shows: The Ranch, Two and a Half Men, That 70's Show; his movies: Jobs, No Strings Attached, and Dude, Where's My Car?
Week of 6.12.17
Batman's Adam West died over the weekend. Howard said he was a great guy that had done the show many times, even though he didn't like the campy portrayal on TV; he thought they didn't take it seriously enough. JD was in studio when talking about going to the horse races and Shuli talked about him giving his fiance money to bet and Robin said JD was like Big Daddy in Cat on a Hot Tin Roof. Jim Carrey was on the phone plugging his new I'm Dying Up Here. Howard asked him about the Joker in Gotham, and both Howard and Jim like his take. In Robin's news, she said Dennis Rodman was back in North Korea. She and Howard said that the documentary Dennis Rodman's Big Bang in Pyongyang: Showtime Documentary about his last visit was really odd to watch. Robin read a story about Derick Smalls from Spinal Tap, saying her copy read his name incorrectly as Harry Smalls, while reporting on a story that he is coming out with a solo album. Howard and Fred knew he was from Spinal Tap, but Gary came up with the right first name. Howard says that a clip they played of Bill O'Reily sounds like Jack Nicolson in The Shining. Jimmy Fallon was in studio, and Howard talked about him at a party where he photo-bombed every picture; Jimmy said it was like Zelig.
Week of 6.5.17
Howard and Robin both haven't seen the new Wonder Woman, but are anxious to see it. Howard thinks having a woman director would give the movie more heart. He loved Betty Thomas directing his movie. Robin reminded him that she also directed some bad movies, too. Howard said they can't show Wonder Woman in Lebanon, because the lead woman is Jewish. Robin said no one is watching Super Girl, and Howard said she needed to stop it. Howard saw Bay Watch and said it is NOT good. He said it needed romance; said there was no story and only a few funny parts. Kevin Hart was in studio talking about his new book, "I Can't Make This Up." He is in the new Jumanji movie and Captain Underpants. Howard said the Gotham finale was really good. Robin said that she's bailed on most TV superhero shows, but is sticking with this one.
Jason Kaplan tweeted:
#WonderWoman

was sooo good! Best DC film since the Nolan days. I'm gonna see it twice more! Glad to see it with my buddy @CevallosLaw
Week of 5.29.17 On Vacation this week for Memorial Day Go To MarksFriggin.com for a complete rundown of shows. You can look up movies mentioned by letter across top of this page.

Week of 5.22.17
On the WUS talking about Steve from Florida, Gary said he's been he's like the character in Big Fan. Gary says he's been telling Howard for years he needs to watch Big Fan. Says it's great. Jamie Foxx was in studio. They talked Ray,  Django Unchained, his new movie Baby Driver, Sleepless, (which Jamie says is his least favorite of his movies), and his start in In Living Color. The "Scott doesn't pay" segment, Jason and Howard say that Scott is like the Hulk. He's either boring or goes to 150 percent angry:"You won't like me when I'm angry." During Robin's news talking about Anthony Weiner pleading guilty, Robin says she needs to see this documentary  Weiner. Howard said she really needs to see it.
Week of 5.15.17
Howard and Robin both watched the documentary Robert Klein Still Can't Stop His Leg. They loved it. Said that Robert Klein was one of the best comedians ever. He kind of changed how stand-up was done by telling personal stories instead of quick jokes. Howard said it was directed by Marshall Fine, a long time film critic who finally made a movie that nobody will see. They said it was funny, but was also kind of sad, because he looks so old now, and he should be more revered, instead of almost forgotten. They said he teaches kids how to be funny now. Robin said the kids will get up and tell a joke, and Robert will show them how to tell it to make it funny, and he always made it funnier. He's still amazingly funny and sharp. On the WUS, Gary and Jon both like the new season of Fargo.
Guest today Chris Robinson led to talk again of the movie It Might Get Loud. Howard and Robin both loved that movie. Howard talked about Brad Gray's death. He worked on the Garry Shandling Show and the Larry Sanders Show. Then he worked in movies and was responsible for the Star Trek, Transformers and Mission Impossible franchises. He produced the Sopranos and Real Time with Bill Maher. Howard saw the documentary on gay rights called Rise Up (it's really called When We Rise) and said Robin and everyone need to see it. Says it's really good. Talking about the new Johnny Depp Pirates movie, and Howard is proud to say he's never seen any of them. Robin likened Richard's former drumming career to the movie Searching for Sugarman. Anthony Atamanuik was in studio doing his Trump impersonation and to plug his show The President Show on Comedy Central. Howard said it's really funny.
Week of 5.8.17
Howard says the Gilbert Gottfried documentary, Gilbert,  is really good. Howard feels bad for Richard Christy having a cameo appearance on Guardians on the Galaxy sequel. He says they're goofing on him. He feels the same way about Stan Lee. He thinks by putting him in every movie, he looks like a senile old man, rather than the genius he was for creating all these characters. Howard said the MTV Movie Awards gave the best kiss award to the two guys who kiss in Moonlight. Robin said she didn't agree and that the hottest kiss is in Sense8. Howard said Vincent Gardenia worked his dad and his dad loved him. He was later in the Death Wish movies. Benjy's doing another Sharknado movie.
Week of 5.1.17

Talking about Erin Moran from Happy Days death. Star Trek and Star Wars with Richard and Sal's sword fight. Talking JD getting kicked out of his seat at the Samantha Bee Not the White House Correspondent's Dinner, Fred plays the "Shame" clip from Game of Thrones. Talking about a reboot of Roseanne. Howard says he can't talk about the premise, but it's great. Ike Barinholtz was in studio, plugging his new movie Snatched and The Pact that is coming out next year. He was in Superbad, Neighbors, The Mindy Project, Suicide Squad and Sisters. He also wrote Central Intelligence.
Talking about the possible writer's strike, Howard worried. He's had enough of Into the Badlands. It will do for now, but he wants his Walking Dead back. On vacation, Howard met a guy who was in Scarface and Breaking Bad. He saw the movie Me Before You and loved it. It had the Game of Thrones' Kaleesi in it, the girl who decided she won't get naked on the show anymore. Robin said she has seen previews and would never watch it, but Howard says it was great and he likes the Kaleesi again now, even though she won't get naked.
During the news about a rat head transplant, Howard talked about his favorite movie next to the Godfather: The Thing with 2 Heads. Says it's so funny-they put a racist's head on Rosie Greer's shoulders and they argue the whole time. Says it's a classic. Then he talked about how great a life men have, as even in the Steven Hawkins movie, The Theory of Everything. He's disabled and still  leaves his wife for a nurse. On the WUS, they said the first 3 episodes of Handmaid's Tale was really good.
Howard and Robin still really like Gotham. Fred played the "Fuck You" Bella Lugosi from Ed Wood while Howard was talking about Ryan Seacrest. Robin still likes the Jennifer Lopez police show, Shades of Blue. Howard hates it. Amy Schumer was in studio to plug her new movie Snatched. Howard really liked her other movie, Trainwreck and her TV show, Inside Amy Schumer.
Jason Kaplan Twittered:  Saw #GotGVol2

w/ @cwotd & it was AMAZING!!!! Even more amazing, Richard's in it! This one time only I will advocate running – to see it!
Ralph Tweeted he was sorry the finale for Billions is over. He said it was great.
Week of 4.24.17 – Vacation Week. Check out MarksFriggin for show log, and then look up movies mentioned here.

Week of 4.17.17
Howard thinks it's crazy and can't believe Fast and the Furious franchise Fate of the Furious is #1 at the box office. Says he's tried to watch them and they're unwatchable. George Takei is in studio for his 80th Gay Birthday Party. They talk of Star Trek, his musical Allegiance and his role in Heroes. Howard talking about Charlie Murphy's death over the weekend, and how great he was in studio as a guest and on Dave Chappelle's Show. He and Robin say both of Dave Chappelle's stand up specials that he did recently for NetFlix are really good. Howard said Dave looks all buffed up like the gay guy who got out of prison in the movie Moonlight, except he's straight. Robin said he was wearing a jacket, so she's not sure that was all muscle, but Howard is sure it was.
Howard said watching George Takei petting Jason Ellis' penis reminded him of Dr. Evil petting his cat from Austin Powers. Robin said the Bee Gees Tribute Show was really good. Howard said he liked the Bee Gees but could never get into their Saturday Night Fever and other disco hits. It was like a movie where aliens took the Bee Gees and replaced them with these guys in white suits. Robin said John Travolta told stories about it being his idea to have the song Staying Alive play while he was walking. Howard doesn't buy it. Even if it was true, it was a night about the Bee Gees, not John Travolta. Talking about Rob Schneider being in studio last week, Robin said he had a famous musical daughter, Elle King, that also had a small part in Deuce Bigalow playing a girl scout.
Howard and Robin were both sad that the show Girls is over. Sheryl Crow was in studio and Howard asked about being asked to cover This Child of Mine for Adam Sandler's Big Daddy. Alec Baldwin was in studio talking his Trump on SNL, his hosting the Match Game, working with Cate Blanchett in Blue Jasmine and losing the Hunt for Red October franchise to Harrison Ford, and the animated movie he's in now, Boss Baby. Alec said it's pretty funny and has a heart at the end.
Week of 4.10.17
Jason gave a studio tour to a well-known family with 2 young sons, and the 6 year old kid called him "Fat Boy" and both of them were unruly. They said it was out of the movie Problem Child. Howard said he's watching everything Mel B because of her messy divorce and charges of spousal abuse. He talked about the movie Spice World, saying it was one of the worst movies ever made. Robin said she never saw it. Howard said he's never gotten through the entire movie, it's so bad, though Howard says he was in it as Jewie Spice. Howard said he and Beth binge watched the entire series of This Is Us. They loved it. Robin didn't like it.
Listening to porn, Fred plays the 3 Stooges noise during talk about vagina porn, and Brent talking about a fight he was was knocked out in the first 39 seconds. Talking about a guy at Subway saying Jason had enough mayonnaise brought up the soup nazi from Seinfeld. Playing "Shame" for Robin from Game of Thrones. Talking about Jon's behavior in an elevator brought up Fight Club. Howard again said how much he liked the movie Edge of 17, and Howard was wondering if Benjy is going to be in Sharknado 5, they they just announced was going to start filming.
Adam Sandler was in studio to plug his new NetFlix movie, Sandy Wexler. Both Howard and JD saw it and said it was really funny. Gary is in a couple of scenes, which Adam said were really pivotal ones. Howarde said all the movies and the series Adam has done on NetFlix are really good. Rob Schnieder joined him in studio, and they talked about Deuce Bigalew, which he wanted to call Douche Bagalow, Male Prostitute, but the studio wouldn't go for it.
Jason Kaplan‏Verified account @Siriusjay Apr 10 Tweeted:  #FateOfTheFurious

was fantastic!! Huge fan of the franchise and F8 does not dissapoint. Was disappointing I couldn't fit in this car…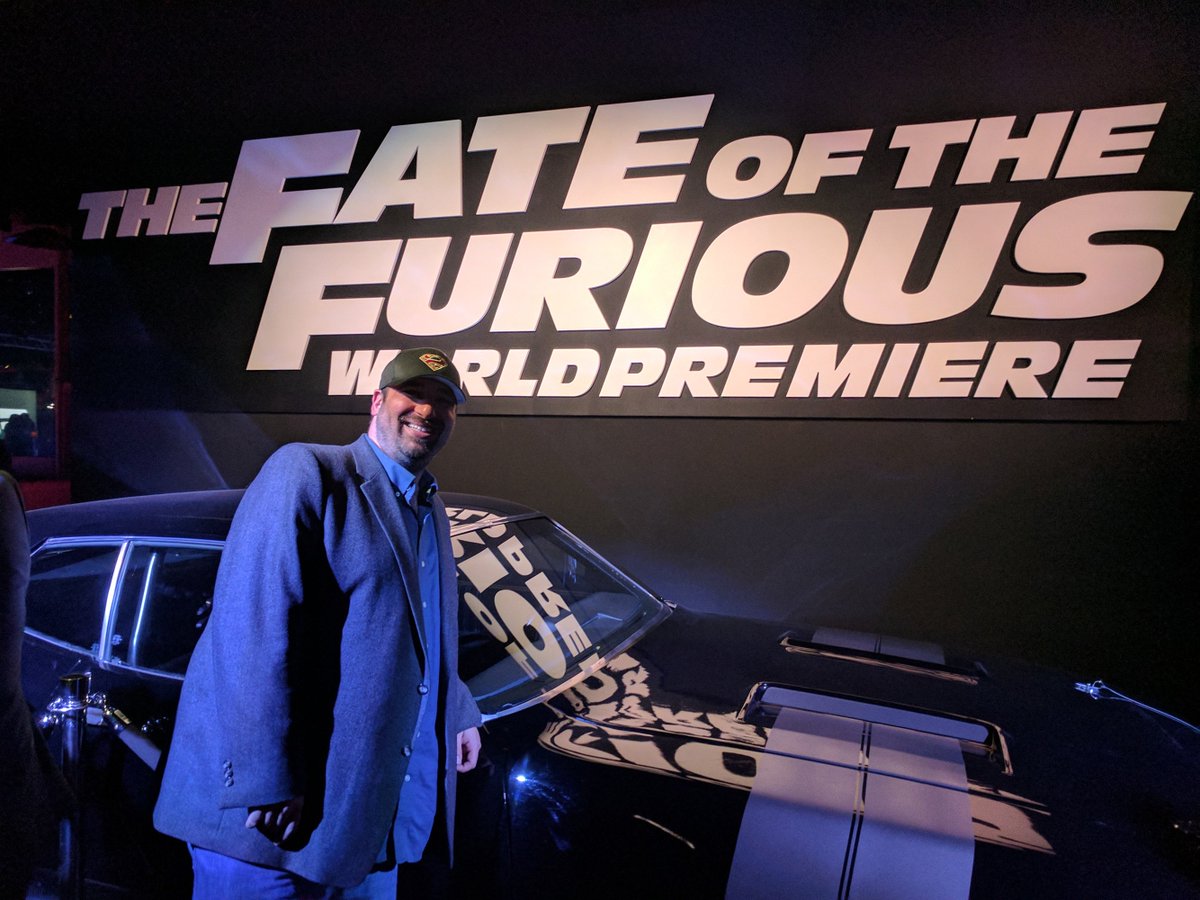 Week of 4.3.17